- Hi Debbie,

- How and when did you discover AC/DC ?
I was about 13 or 14 years old at the time... I discovered AC/DC during my teenage years through a school friends sister & was instantly smitten ..
- Had you seen the band live or on TV with Dave Evans ?
Yes .... in 1974...1975 ??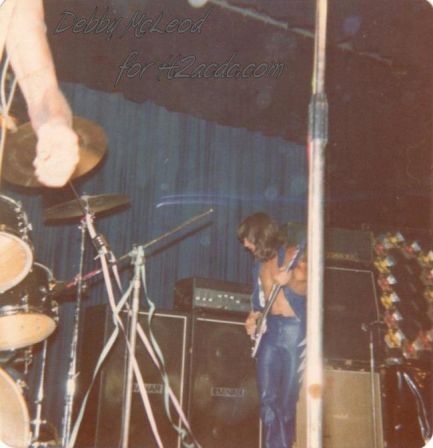 - Do you remember the first time you saw the band live ?
I most certainly do ... i will never forget it.... it was at Port Macquarie Civic Centre in N.S.W Australia . It was a promotional tour for the release of the High Voltage album . I was with a group of school friends ... we were all the same age & we had front row . In those days there were no seat tickets...it was "luck" as to how close you got to the stage . We had the most incredible position right in front & all my friends were very jealous when Bonn himself unlaced his very tight white leather pants & sang Can i Sit Next To You Girl while looking straight at me!!He got the usual teenage girl response of screaming...
- Have you seen AC/DC regularly live ? In the 80, 90? 2000? During the Black Ice Tour ?
Sadly NO..... i saw them live only one time & they moved to the U.K not too long after that.....
- How did you react to Bon's death announcement ?
I will never forget that day as long as i live . I was listening to the radio & the news reader announced that he had been found dead . It remember that it seemed such cold announcement for man who was so charismatic . I cried solidly for about 2 days & wept silently for weeks ( maybe months ) thinking about how he died alone .... it was very surreal . I also remember thinking that i should hang onto all of my "stuff " i had collected as AC/DC would probably disband now...after all who could possibly replace the one & only Bon Scott ?
- What did you think about his successor, Brian Johnson ?
I was very surprised that they had actually found someone that could fill such big shoes so to speak . I was very very cynical thinking that there was no way possible this man Brian Johnson could possibly "replace" our beautiful Bonn!!Eventually my horror subsided & i decided to have some faith in the other guys that Bon left behind...after all they were "replacing" a brother & with no doubt they had a hell of a tough time doing that ... i remember an interview with Angus at the time of the release of Back in Black & he had tears in eyes talking about Bon & saying that he thought Bon would be happy with their choice his" replacement " . He is no longer the new guy to me he Mr Brian Johnson AC/DC front man & doing an excellent job....
- How many AC/DC shows did you attend ?
Only one time...but in that one time i saw more of AC/DC than a lot of other fans would now & my memories are a little rusty but i still remember the excitement so plainly ...Once live but i do have DVD'S & C.D'S that are played regularly in our household my favorite all song is You Shook Me all Night Long & of course Can I Sit Next To You Girl...
- Who is your favorite member in the band ?
Without a doubt Bon will ALWAYS be my favorite but i like them all...very much...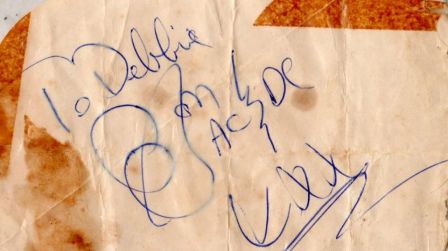 -Review :
.....
From memory ( which isn't great ) i'm sure it was the T.N.T album promo tour circa 1975/76. I remember being very very excited all of that day/night... it was a long day waiting!!!Pretty sure it was the Summer of 1975 which would have made me the grand age of 15!!!!That's a few years ago as i'm a 51 vintage now so it's a hard call on memory for some of it..but i will try my best as i do have Bonn as the only "real" memory that stamped permanently in my brain...

I was kind of an odd person at school as no one had heard of AC/DC except one of my girlfriends.....some of my friends thought they were an alternative band of some sort Laughing out loud... but i had been into them for a while & knew the songs & i wasn't missing THAT show . The trip to the venue was quite a journey in those days .... it was a 45 minute drive compared to now which it only takes 15 minutes ! There was myself & some school friends & we met up outside the venue...they said my excitement was quite contagious & they really should see what i was talking about .

We didn't have to book tickets , we just bought as we walked in the door ! Imagine that now..... It was a reasonably small venue compared to what they have now to perform in....sadly that building has now been torn down to make way for progress...i wish i had known i would've have asked for a little piece .

We were fortunate enough to be able to get right up to the front of the stage as there were no seating requirements back then for gigs & we never missed a THING!!!I think my friends were a little confused at the screaming & singing to start with..it was just our Bonn doing his thing..Winking smile The second those guys hit the stage it was full on noise & rock & roll the atmosphere was just electrifying!!I was mistaken in thinking that there would not be many people there...it was packed to overflowing!!!

There were no set breaks AT ALL just high energy from the start...Angus didn't do his shoulder ride with Bon that came later as their popularity grew . I will say they can't be very fond of clothes as the night wore on Bon became less dressed & so did Angus ! Bon wore very tight white leather pants that laced at the front with a matching vest like Marks blue one in the pic & I think Angus had his school uniform on( not sure) before the night was over wellllll i don't know why he had them on really !

It was obvious to me from the start that Angus & Bon were the showmen....i could tell even at such a young age that these guys where going places. I don't remember too much about the set list except that one very special song of which will remain etched in my memory forever , after all what lucky girl gets to sing a chorus or with the irresistable Bon Scott....my Bon autograph was on that set list &i very stupidly cut it up to fit into my other "special" book & have been told that it's not worth any monetary value because i should have left the set list in tact... i find that hard to believe but never mind. We were fortunate enough to go back stage & meet the guys ... who may i say were all gentlemen on their best behaviour i guess as we were only school girls Smile.....i did get a thank you from Bon for joining him in the chorus & he seemed quite surprised that i knew all the lyrics ! !THAT was enough for me to persue my own singing career of which may i say has been extremely good.
I even converted quite a few friends to my world that night & they are still there with me now . I'm unsure of what else to tell you other than my Mum was relieved when it was all over...she never understood her daughters love of rock & roll & i don't think she ever will.. I hope what i've told you is ok. I hope you enjoy my little story...


Thanks Debbie fo this fabulous moment.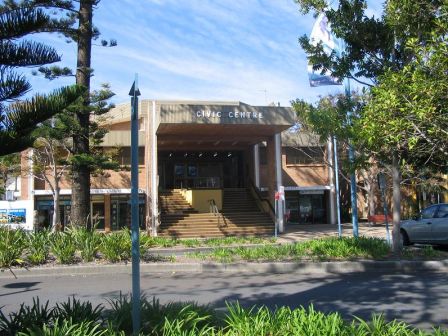 - From Mark Evans :
The bass is a Blue Rickenbacker 4001 from 1972, the bass also appears on the back cover shot of "High Voltage". The white bit you can see is the pickguard, the bass was the same colour of the leather pants/vest.