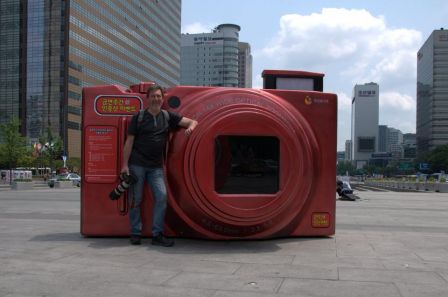 Did you start your career as a Photograph(er) in Melbourne?

I started my photographic career immediately after finishing high school in 1967. I was given a 'cadetship' on The Newcastle Morning Herald, a large, independently owned newspaper in Newcastle, a city 160km north of Sydney. I worked there for almost four years before I was offered a job in Fleet Street London. I worked as the European correspondent for 'The Sydney Morning Herald' and various colour magazines. Returned to Newcastle in 1973 as a senior photograper until I was offered a Melbourne job on a short-lived 'pop' magazine called "Spunky". Continued to work within that organisation for a TV magazine while doing freelance work still around the music scene. Left to go completely freelance in 1985 and still doing it. Most of my work now is in the film and television world although I still do a little bit of music stuff. I'm busy scanning all my archives and showing them on the web.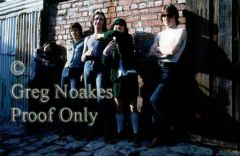 Why did you make the choice of colored photos over black and white?

Most of my early work was in black & white as there was little use of colour in newspapers and magazines. The majority of my work was for publication. As magazines became completely colour oriented, so did my photography. There was an in between period where you would have to shoot both. That led to the dilemma where sometimes you got the 'better' shot in B&W.
What gear/equipment were you using at that time?

I used a variety of gear for a long time, Hasselblad, Mamiya (both 6x6 and 6x7). I bought my first Nikon in 1967 and used a variety of models up until 1985 when Canon approached me. I have been Canon ever since although now I buy my own.
How did you happen to work with AC/DC?

With "Spunky" magazine I worked with all bands, both Australian and overseas.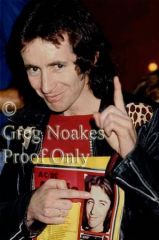 Can you tell us a bit more about the Melbourne photo session in december 76? in a restaurant, the golden record ceremony? Who was there? How was the atmosphere?(1976/12/06 - AUS, Melbourne, Little Reata Restaurant)

Those days were exciting, music was a fun business not the serious, money-making concern that it became later on. Lots of alcohol, drugs, laughs and girls! Not for me of course, only the alcohol and laughs. (laughing)
And what about this session in the street with the whole band? Do you remember the exact location and date? Had this session been organized for promo purposes?

These photos were done for a variety of magazines and were taken a few days before the gold record presentation. That puts both events somewhere between November 1976 and Februray 1977. They were taken in an alley in West Melbourne. We met and went to a nearby hotel (The Royal Standard) for a quick drink and then much later, stumbled out for a quick photo session. We then went back to the hotel to discuss saving the world!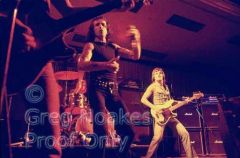 You also shot the band live. How was the atmosphere in little clubs when AC/DC was playing at that time?

I only photographed them once at Festival Hall in Melbourne. It wasn't a small club, but the atmosphere was electric. Squashed up at the front of the stage. That's why I'm looking up Bon's nose. The audience sung every word of every song with the band.
The photo of Angus in the airplane has become famous but nobody never really managed to date it? Can you give us more info?

It was taken on the set of a very popular TV show called "Countdown" sometime in the early '80's. Angus was the guest host.
Did you keep on following the band's career after 1980?

Not really. I liked Bon. It became difficult to photograph bands live. The stage productions became enormous and you were limited (in most cases) to just photographing the first 3 songs.
Thanks Greg for this interview.