Event program : Concert
Event Line up :
AC/DC's Line up :
-Singer : Brian Johnson

-Lead Guitar : Angus Young

-Rhythm Guitar : Stevie Young

-Bass Guitar : Cliff Williams

-Drums : Chris Slade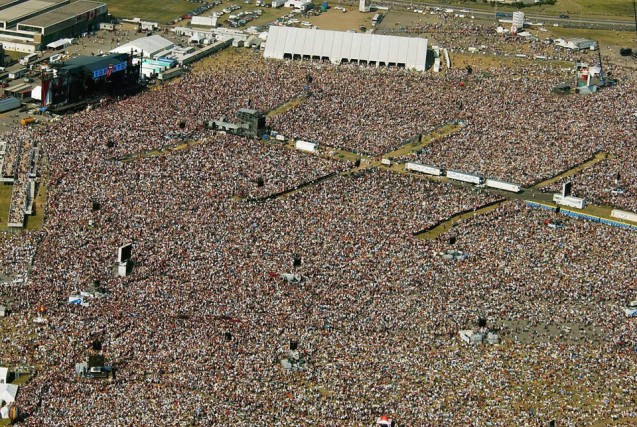 Retour à Toronto, pour 17e concert d'AC/DC dans la plus grande ville du pays avec ses 2,5 millions d'habitants. AC/DC s'y est produit pour la première fois le 12 juin 1979, et la ville est depuis inscrite sur le carnet de route de toutes les tournées mondiales du groupe.
Cette fidélité culmine le 30 juillet 2003 quand la bande à Angus participe au Toronto Rock Festival (SARS benefit gig), déjà à Downsview Park, en ouverture des Rolling Stones, et emporte la décision devant quelques 500.000 personnes. Et Phil Rudd de conclure dans Drum Magazine en 2005 : "The Stones gave us an hour – that's a dangerous thing to do. You don't give us an hour before you go on, mate ... The whole band just nailed it. We got into the van offstage and went, "Yeah, f**king follow that !".
Go AC/DC go !



Setlist :
Shoot To Thrill
Hell Ain't a Bad Place To Be
High Voltage
Rock'n'Roll Train
Hells Bells
Baptism By Fire
Sin City
Shot Down In Flames
Whole Lotta Rosie
Let There Be Rock
Highway To Hell
Photos et review :

© H2AC-DC.COM - May not be reproduced without written permission of Highwaytoacdc.com, contact@highwaytoacdc.com