Memories of an ACDC concert.

It was the summer of 1977 and my childhood friends Jane & Ruth were staying at my parents home in Ballarat, for the school holidays.
I was fourteen years old and loved Australian rock bands. We had a new television show in Australia, called 'Countdown', which featured performances by many up & coming Aussie music artists.
One of the bands that played on 'Countdown' was ACDC, and we thought they were great, so when I heard they were playing in Ballarat, we just had to go. Many bands used to play at small country town halls in those days and would go on long tours of Australia, playing at school halls etc all over the country.
I remember wearing my new harem pants outfit to the concert. It was a black, one-piece arrangement with feathers and baubles dangling everywhere off it, (thank goodness I don't have a photo of that!)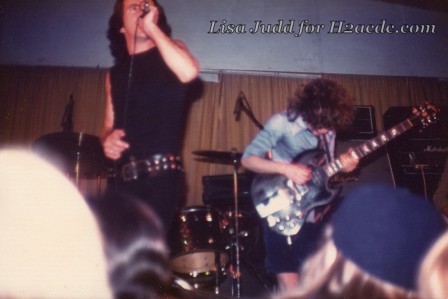 Mum drove Jane, Ruth & I into the town of Ballarat, and dropped us outside the St Patricks Church Hall. St Pat's is one of the largest churches in Ballarat, but the hall where the band was playing, was only really an annexe off the main church, so it was quite small and was probably generally used for Sunday School lessons or something.
Entrance fee was $5.00 and the time was late afternoon. The small, dark, windowless room was filled with about 40 teenagers, smoking cigarettes and some drinking cans of beer they had snuck into the hall. Girls smoked Alpine and boys smoked Marlboro cigarettes in those days.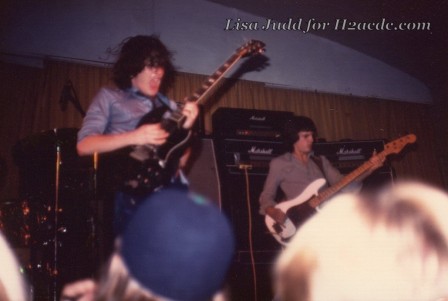 There were never any security guards in the old days, generally just one elderly gent (caretaker) would run the hall. His job would be to open up, collect tickets at the door, give the hall a quick sweep after the concert, then close up at the end.
After chatting with the naughty kids smoking and drinking up the back of the hall, we made our way to the front (about 10 steps), where a row of kids had already taken the front positions next to the stage.
So, after the support band, (Punkz) ACDC came onstage and rocked that little hall for about 30 minutes, with a string of great music. I cant remember exactly which songs were played, but probably TNT . I got out my trusty Kodak Instamatic and took a couple of snaps. (Then the two week wait to see if the photos had turned out!).
I do remember a couple of youths asking for their money back at the end, because the band didn't play for a long time. But there was no trouble, they just went on their way when they realised no-one at the ticket office cared. (The old caretaker was probably chatting and drinking cans with the band by this stage.) Anyway, it was great fun, of course, and I'm so glad I got to see the boys play live before they set off to London and bigger and better things…